About Us » Vice President's
From Vice President's Desk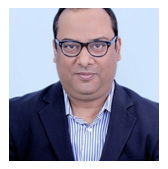 Mr. Santosh Jha, Our Vice President
Unique business model –
KINGSTON CROP SCIENCES INDIA PVT. LTD. took birth from an idea to support economical sustainable agriculture. We have over 1 decades brought out best Bio Pesticide through in-house research. Each product has been perfected technically and the channel is supported in all possible ways till it reaches the farmers and imparts benefit. Thus our business model is fuelled by in-house research acumen which can be translated into scalable technologies.
Strong brand building – Over the years KINGSTON CROP SCIENCES INDIA PVT. LTD. has believed in creating not just technology but brands which are respected by the customers – FOG, VILLGRO, K-CROSS, BENZ 24, AMAZING GRACE, HULK AND XPRESS ZYME are known for their technology and consistent quality.
R and D for development of product or technology – Our unique platform in our R and D department has brought out state of art UNIQUE products which have been formulated by award winning technologies. We are the inventors of Liquid bio-fertilizers. foliar surfaces are providing multiple benefits to the farmer. Our discovery pipe-line has potential to yield plant nutrition, protection and soil health management.
One stop solution for maximizing yields – Precision agriculture is the key for maximizing yields and earning sizable profits for the farmer. Soil testing is the heart of this activity. We have devised unique one-stop service to help the farmer achieve best results. KINGSTON CROP SCIENCES INDIA PVT. LTD. dreams of transforming agriculture in a sustainable manner.
State of art manufacturing abilities - Our R & D plant for producing world Class Products uses innovative techniques and is supported by our In-house R and D department. Our biopesticide plant produces of fungal and insect management in crops.
Meeting compliance and going beyond it Compliance at KINGSTON CROP SCIENCES INDIA PVT. LTD. is seen as a way for reaching the best quality inputs to the farmers. KINGSTON CROP SCIENCES INDIA PVT. LTD. additionally has devised its own compliance parameters which are the best to achieve quality and build up brand image. We target zero pollution norms by 99% recycling of waste. Our products also reduce the chemical and carbon footprint.